| | |
| --- | --- |
| | Spoiler Alert: This article contains spoilers. Read at your own risk. |
Western Kingdoms Arc

Information
Location
Salabria
Side
Hybride; Agnika or Gassel
Media Duration
Light Novel Volumes
LN 16
Western Kingdoms Arc is the 11th story arc of Kou 1 Desu Ga Isekai De Joushu Hajimemashita series and the 1st story arc of New Era Saga. Set at some time after the Four Kingdoms Summit, Agnika and Gassel-two neighboring western kingdoms to both Hybride and Phyllis respectively- are feuding against each other over the fire incident at one harbor that is located within the Terminus River. This prompts Hiroto and his allies to sneak into one of Salabria harbors in order to prevent this feud from threatening Hybride. In the midst of this affair, Leonidas suddenly returns to Hybride from Regulus but his return only brings bad omen to those who antagonize him.
The Prince's Decision to Return to HybrideEdit
(To be added..)
The New Conflict At the WestEdit
(To be added..)
Hiroto's Declaration of Sanctioning Agnika and GasselEdit
(To be added..)
(To be added..)
Upon meeting both Agnika and Gassel Factions, Hiroto (as Margrave) implements his sancitons against both factions: Not only sailors and merchants from both sides have to pay at least 200 for their ruckus at Salabria's harbor, they ar also barred from entering that port within 3 months.
(To be added..)
(To be added..)
(To be added..)
The Prince's Decision to Return to HybrideEdit
(To be added..)
The Ominous Return of a TyrantEdit
(To be added..)
The Prince's Decision to Return to HybrideEdit
(To be added..)
(TO be added...)
Characters
Edit
Supporting

Edit
Story Impact
Edit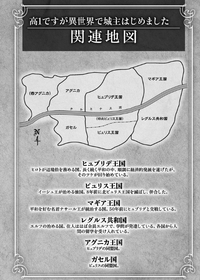 With the addition of Agnika and Gassel,who are allies to both Hybride and Phyllis respectively via pacts, the world map is now extended beyond the initial 4 kingdoms (Hybride, Phyllis, Magia and Regulus) as it has now has 6 main kingdoms. 

Agnika is located at the west of Hybride and it is introduced as Hybride's longtime ally due to the alliance between 2 respective king, with one of them was Moldius's father who vowed to protect its western ally if any threats befall onto it.
Gassel on the other hand is south west of Hybride but unlike its northern rival kingdom, its is an ally of Phyllis due to the marriage between King Pashan the Second and Ismir, the latter of the two is Eesh's younger sister.
Metis's past is revealed.
Hydran is introduced as a Duke who happens to be Moldius's cousin and Leonidas's uncle, making him a member of the Hybride royal family. Similar to Hiroto's past rivals and enemies, Hydran is also against the Ibrid System for he loathes Hiroto for his ongrowing fame and influences, particularly his reputation the Diferente's bond with the vampires. Hiroto's involvement and success in pacifying the feud between Agnika and Gassel doesn't nothing but fueling Hydran's hostility towards the Diferente as he only views him as a "threat" to Hybride and willing to use any tricks and scheme to stop his rise, making him as one of Hiroto's vilest enemy in the series.
More new characters are introduced in this arc, specifically aristocrats and royalty from two new kingdoms Agnika and Gassel.
The aftermath of Hiroto's successful negotiation in stopping the feud between Agnika and Gassel has giving a bigger impact onto those who are involved.

Due to Hiroto and the vampires' aid in stopping Metis and Gassel Army, Lyndrus is eternally grateful to the Diferente and respects him so much that he praises the youngster as Hybride's valuable minister, further elevating Hiroto's fame and influences.
Even after being rescued by Valkyria, of all people, from Metis and Gassel Army, Hydran still holds his animosity towards Hiroto and the vampires because he only see him as a "villain" who hides his "agenda' in becoming king to rule Hybride, even though his has an ambition to be one. Lyndrus's praises about Hiroto only intensify his rivalry against Hiroto as he is so disgusted by the Diferente's grandiose praises that he vows to crush him by all means necessary, making him as one of Hiroto's dangerous enemy. This rivalry will culminates in the next chapter where Hiroto narrowly wins against Hydran at the debate in Emperia.
Unlike Hiroto whose fame rises further after pacifying the feud between Agnika and Gassel, Leonidas's reputation strains further for refuses to help quell the aforementioned feud, hence leading to his brief hatred for Diferente as he blames him for his increasing infamy. However, it ends quickly in the next arc as Leonidas needs Hiroto's help in his quest for redemption and face off against Hydran for the empty throne.
Moldius's heart attack forces the king to stay at his bedside after being treated by Salabria's doctor shortly after his return from Legnica. With the king's condition, Hybride is put on a difficult situation when he vacate the throne, which leads to the succession dispute between Hydran and Leonidas (or rather, Hiroto).
(TO be added...)
References
Edit
Community content is available under
CC-BY-SA
unless otherwise noted.