Raquel's younger brother and he is also one of few remnants of the fallen Northern Kingdom of Phyllis. Like his sister, Joachim wishes to revive their fallen kingdom by defeating the Phyllis Kingdom, though it only makes Raquel even more worried about him mostly due to his hot-blooded and stubborn personality. Even after his defeat, Raquel still views him as a brother.
Friends and Allies
Edit
The Diferente who becomes the State Sheriff of Salabria.
(To be added...)
(To be added...)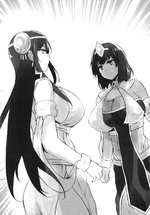 (TO be added...)
Community content is available under
CC-BY-SA
unless otherwise noted.