| | |
| --- | --- |
| | Spoiler Alert: This article contains spoilers. Read at your own risk. |
Phyllis Affairs Arc is the 7th story arc of Kou 1 Desu Ga Isekai De Joushu Hajimemashita series and also the third and last story arc of Hybride and Phyllis Saga. This arc illustrates Hiroto's complicated relationship with Phyllis-Hybride's rival kingdom from the south. This arc contains three main stories as one: The first story illustrates Abrahim's (Prime Minister of Phyllis) attempt to assassinate Hiroto by using Emperia ministers' distrust against him to isolate the Diferente from Emperia. The second story tells Hiroto's challenge where he has to deal with not only Phyllis and its champions such as Metis and Gardel, but also vampires' (Gezerkia's faction) sudden attack onto Olsia again. The third and last story eventually ends with Hiroto's peace negotiations with Phyllis that meets strong opposition by House Lalente-a noble house who is strongly supported Northern Phyllis's resurrection; specifically the duo of Joachim (Raquel's little brother and also an exiled noble) and Countess Felkina do Lalente (a noblewoman whose mother was a noblewoman from the fallen Northern Phyllis Kingdom whilst her father, Count Lalente, died during the Phyllis Civil War).
Prologue (Part 1)
Princess's Reaction About Salabria and Phyllis's Sinister Plot for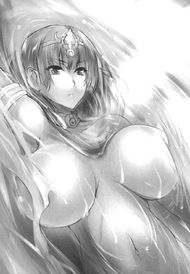 In an unknown building at Emperia, Raquel-the former princess of the fallen North Phyllis-is swimming at a pool while listening from a female officer about of Galsh's invitation to visit Salabria. Raquel, viewing Salabria as a place of "demons", replies that she is not going to that place and planning to have her brother to go there on her behest instead. Meanwhile, at Phyllis, Eesh is awaken from his sleep and hear Abrahim's report about Kyne's demand to wage a war against Hybride again in order to restore Phyllis's prestige. As the king still bitterly remembering his massive army's horrific defeat by the vampires at Salabria, Abrahim suggests an idea of assassinating Hiroto and when Eesh wonders how it would work, the Prime Minister suggests on manipulating Hybride ministers' jealously against the Diferente since he views the youngster is a an awl to a pants-indicating him as an extraordinary person among Hybride ministers. [Notes 1][LN 1]
Plot (Part 1)
A Visit of Phyllis Merchant
Part 1
Part 2
Part 3
Part 4
Part 5
During their departure from Secondaria, Sykes and his underling are talking about Hiroto's feat and his bonds with Other Species that will make him a core figure in Salabria and they need to report to Abrahim about it.
Part 7
Emperia's Distrust onto Hiroto
Part 1
Part 2
Part 3
Part 4.1
Part 4.2
Next, Horatius gives Eesh Hiroto's letter and it says that while Hiroto is a peace-loving person who dislikes war and he want to transform chaos into peace, he will deliver his 50 fallen Phyllis knights as his respect for Phyllis. Despite his confusion by the letter, Abrahim condemns Hiroto for saying "empty words" but Horatius refutes otherwise as he claims that both vampires and elves will wouldn't be with him now if he is what the Prime Minister assumed.
Lujud's Insulting Letter and Phyllis's Invasion on Hagar
Part 1
(to be added...)
Part 2
Meanwhile, Galsh, who is located at Marcel's town square, becoming so astonished to witness one Solum citizen's demonstration about the vampires that he thinks an idea of utilizing the vampires to defeat Eesh and revive the North Phyllis. Unfortunately, he receives a letter from Raquel and becoming upset to learn that the princess is not going to visit Salabria-leaving him to wonder if the princess truly want to revive her fallen kingdom.
Part 2.1
Upon leaving Hagar while remarking Lujud's arrogance and haughtiness, Infilia is going to Salabria in order to see Hiroto and his reaction when he reads the same letter.
Part 2.3
While that is going on, 10 Phyllis spies enters into Emperia's inn as "Salabria visitors" and "praises" Hiroto as the "future King of Hybride" [Notes 2].
Part 2.4
Part 3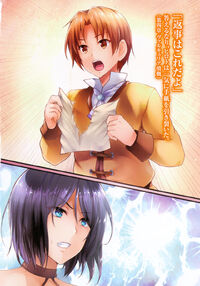 To everyone's shock, Hiroto tears the letter and declares an official protest against Lujud because he deems it as an insult to the vampires while trying to take advantage on their achievements in order to assert his authority-something he finds unforgivable. Infilia then threaten Hiroto that she will report this to Emperia as his "defiance" against the royal degree despite Sōichiro accuses her for putting the blame onto Hiroto; even as the latter explains that Salabria Elven Association will not taking it lightly if they read this letter, she tells him to take responsibility for his "idiocy" only to be irritated by his "cheekiness" when he refuses to do so, to the point berating the Diferente for thinking Lujud will kowtow to him. Suddenly, the meeting is interrupted by a vampire scout who informs Hiroto[Notes 3] that 1,000 strong Phyllis Army is marching towards Hagar in less than 2 hours. As Alvy leaves for the Elven Association, Hiroto asks Valkyria to go to Hagar but she refuses because she is angry about for Lujud's mockery against the vampires. Consequently, Hiroto dismisses the meeting and makes a shocking decision not to rescue Hagar even when Infilia criticizes him for not helping his "fellow minister", much to Sōichiro's worry.
Part 4
(to be added...)
Part 5
At Hagar, Lujud is so appalled to hear Phyllis Army's invasion that not only he silently curses Phyllis for its betrayal, he immediately orders his guards to defend the castle while he rushes towards Terminus River to repel incoming invaders. Meanwhile, Kyne and his army manage to cross the river only to be ambushed by 20 vampires' that are led by Curele, with the latter's appearance terrifies the soldiers so much that they hide inside their camps. Kyne tries to kill Curele only to be killed by her instead when his arrow misses, further demoralizing his former army as the surviving soldiers flee back to Phyllis. The following aftermath causes Lujud to be shocked with disbelief and after hearing a shocking report that Phyllis Army's defeat was due to Curele, the only he can think of is that he "owes" Hiroto for his rescue.
Part 4
This aftermath has shaken the entire Hybride:
Part 5
Infilia is also stunned to hear Phyllis Army's horrendous defeat and after witnessing the town celebration for the prompt her to think Salabria is abnormal, to the point thinking that Hiroto is too dangerous to be manipulated by Panopticus.
Part 6
Lujud's Humiliation and Phyllis's "Gifts"
Part 1
Eventually, complain letters from Primaria-Secondaria Elves Association reach Hagar and while Lujud is mulling about his mistake after reading the letters, Hagar Elf Association's leader barges into his room and berates him for his ungratefulness to the vampires and gives him an ultimatum: either he apologize or the elves will cut ties with Hagar forever, much to Lujud's panic. To rectify Hagar mistake, Lujud's butler apologizes to the angry elf on his lord's behalf and manages to appease him by taking Lujud's family treasures as compensation to Salabria.
Part 2
Part 3
(To be added...)
Part 4
(To be added...)
Part 5
(To be added...)
Part 6
On the next day, Infilia leaves Salabria and after witnessing Hiroto's strategy that fdefeating his enemies due to his foresight and some luck, she considers Salabria as Hiroto's "kingdom" and planing to report that to Moldius and Panopticus immediately.
The Song of Hiroto
Part 1
(To be added...)
Part 2
(To be added...)
Part 2
(To be added...)
Part 2
(To be added...)
Part 2
(To be added...)
Part 2
(To be added...)
Part 3
This causes Finnath to condemns [Notes 4]Hiroto for his "disrespect" for Moldius to the point even accuses the Diferente as Eesh's "spy"[Notes 5] and then using his relationship with the vampires to "steal" the glory for himself-something Sobrinus deems outrageous. To make matters from bad to worse, a soldier reports to Moldius about the arrival of an ambassador from Phyllis with women and gift. 
Part 4
(To be added...)
Part 5
(To be added...)
Part 6
Part 7
Part 8
(To be added...)
Part 1
(To be added...)
Part 2
Sensing that all of this is actually Phyllis's trap, Sobrinus tries to implore Moldius to reconsider but the king listens to Finnath and Universtel instead by having Lujud as the Boarder Protector-leaving Sobrinus to lament His Majesty 's fatal mistake.
Part 3
Unbeknownst to Moldius or anyone, however, Panopticus secretly saves[Notes 6] Seth and others by ordering them to play dead and tell them not to come back. Initially confused by the commotion, Seth and others relent and leave Hybride as "corpses". After telling the guards to keep this incident a secret, Panopticus enters his room and remarks everyone's (sans Sobrinus) folly for falling into Phyllis's trap[Notes 7] [Notes 8] , so he tasks both Infilia and Delegelis to investigate those who sung their praises about Hiroto in order to expose Phyllis's scheme. While Moldius laments his dilemma along with his regret for his rash decision, Seth on the other hand returns to to Babylos and reports his near execution to Abrahim who, inspite of this change of events, mocking Moldius as a fool for playing right into his scheme accordingly. With Hiroto's reputation is now "tarnished" due to this scheme, he leaves the mission to Schut who is now visiting Lujud.
Part 6
At Hagar, while Lujud laughs for finally avenges his humilliation after being appointed by Emperia as the Boarder Protector instead of Hiroto, he visited by Schut who requests to "borrow" some of his knights to pay Dominus Castle "a visit", and Governor obliges[Notes 9]. Meanwhile, Zoppo receives more gifts (such as gold Phyllis women) from Sykes and agrees to help the merchant 's request to meet Hagar Knights and visit Dominus Castle. [Notes 10][LN 1][LN 1]
Part 7
Part 8
Part 9
Part 10
Part 11
Part 12
Part 13
part 14
part 15
part 16
This news eventually spreed across Salabria and all the castle lords are panicked after hearing but Excelis "ensures" everyone that the vampires will still "save" them, of which was a lie and she herself curses Moldius for his decree that will endanger Salabria. Even at night, Hiroto is still bothered by Moldius's decision that he is unable to sleep and begins to wonder his father's advice. When Mimia and Valkyria comforts him, Hiroto asks them if he should go to Emperia but Valkyria claims the Diferente as a better king than Moldius, further steepen his self-doubt.
Raquel's Visit and Phyllis's Attack onto Dominus Castle
On the next morning, Abrahim receives Schut's letter that the knighs have arrived at Salabria and he prays for their success in their mission. While Schut and Phyllis knights-the latter of whom disguise themselves as "Hagar Knights"-rendezvous with Zoppo and heading for Dominus Castle in spite of the castle lord's sudden unease, Raquel is heading to the same place alongside Galsh and her bodyguards until they stumble across a young mummy whose condition is so bad that she takes him with her against Galsh's protest. To the point threatening her guards that she will go to Dominus Castle alone if they still refuse to let him join them. At Dominus, Excelis reports a still-shaken Hiroto about his upcoming visitors and urges him to change his schedule, but he insists to meet them regardless and join everyone for breakfast where Sōichirō and Excelis are discussing the cancelled meeting with anyone from Phyllis, mainly due to the elf's own suspicions about women that were given to Zoppo .
In the afternoon, Raquel[Notes 11] and her bodyguards arrive at Dominus Castle and enter the castle with the young Mummy they picked up. As Hiroto greets his guests, Galsh acts vigilant by sitting on the floor, tasting a wine that is served by Mimia and Sorceire, and demands only Excelis and Alvy stay behind while ordering his men to leave them be. After introducing Raquel to Hiroto, Galsh asks him to borrow the vampires' power to help the princess's quest in reclaiming her former kingdom from Phyllis, prompting Hiroto to summon his friends (Valkyria, Curele and Sōichiro) for the meeting despite his suspicions[Notes 12]. Their meeting almost turns into arguement when Galsh criticizes Valkyria for her "disrespect" towards Raquel but Excelis pacifies the situation by calls him out for his attitude towards Valkyria. Raquel then asks Hiroto if he can help her and when he replies that he can't due to his position's limitations, Galsh boldly suggests to send Curele to destroy Phyllis by assassinating Eesh, much to Valkyria and Sōichiro's anger. Hiroto rejects this suggestion, however, as he explains that doing so will only angers Phyllis citizens and their retaliation may ends up annihilating North Phyllis Remnants instead; moreover, while it further arousing the vampires' suspicions about a mission they are no part of, it will also risking the princess's life as well. Seemly understanding[Notes 13] Hiroto's advice and rejection, Raquel eventually stops Galsh from pressuring the Diferente and views her trip was a waste of time.
Just as Raquel and her bodyguards are about to leave, Hiroto and others are informed by guards about the arrival of his next visitors: Zoppo and 50 "Hagar Knights". When the soldier is about to greet them, however, Schut orders his men to barge into Hiroto's office and kill him but Phyllis knights also set their eyes onto Raquel too and go after her as well. While Alvy, Carabella, Galsh and other guards fighting against the invading enemy, Hiroto and others (including Raquel) are rushing for the bedroom and barricade themselves by using beds to block the door.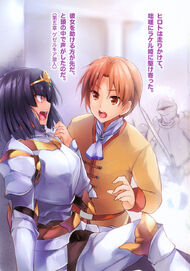 With Excelis's suspicions that their "visitors from Hagar" were actually Phyllis knights in disguise, Hiroto tells Valkyria and Curele to seek help and just as the vampire sisters reluctantly leaves the castle, the intruders are now trying to ram the door, forcing everyone to enter the bathroom and Excelis locks the door while Raquel recalls her past trauma of escaping from Phyllis since the fall of her former kingdom. As Valkyria and vampire airborne units arrive at the bathroom window, Hiroto sends Raquel off first but she hesitates due to her fear of heights only to grabbed by a vampire and put into the carriage instead. The intense flight causes Raquel to scream in panic while riding an Airborne Carriage but Hiroto calms her down by ensuring her that her enemies will not chase after them from that distance. As the duo reach Primaria Caste, both Hiroto and Raquel are greeted by Primaria guards who report the incoming reinforcements. Hiroto then explains the incident to guards and orders them to protect Raquel and forbid anyone but the elves from entering the castle, causing Raquel to fell grateful for Hiroto's rescue.
Back at Dominus Castle, only Alvy (and Carabella who escaped via a ladder) survives the skirmish until he confronts 3 Phyllis Knights as well as Schut and Zoppo. In his (supposed) last stand, Alvy is blown away by 3 knights that sends him crashing to the office's window and falls in midair, though fortunately he is rescued by 2 vampires (Bed and Radar) and heading for Primaria. While Curele and other vampires are flying towards Primaria Castle as fast as they can,  Mimia and Sorceire on the other hand are next to rendezvous with Excelis and Sōichiro but Sōichiro orders the women to escape first. Unfortunately, by the time Sōichirō is about to leave with Valkyria, 10 enemy soldiers finally breach into the bathroom but Valkyria herself is forced to flee out of Sōichiro's request due to the enemies' overwhelming numbers.
As the result, Dominus Castle is overtaken and Sōichiro is captured as prisoner. At the same time, however, the Phyllis Knights are trapped inside the castle due to the roaming vampires from the skies.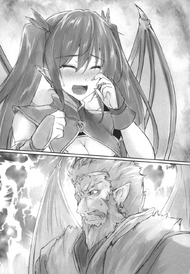 At Primaria Castle, others are relieved to see Hiroto's safety but becoming sad when Valkyria sorrowfully informs everyone them about Sōichiro's capture by the enemies: Hiroto cries for his (apparent) lost of his best friend, Valkyria and Excelis blame themselves for Sōichiro's capture and Curele is especially upset and desperately want to save Sōichiro but Zeldis stops her as he says that there is nothing they can do about it. Meanwhile, at Dominus Castle, Schut is frustrated by his miscalculation about Raquel's sudden appearance that foiled Phyllis assassination plan of Hiroto, to the point berating his adjutant for Phyllis knights' focus onto their wrong target while letting the Diferente got away. Nevertheless, Schut proceed his mission to the end and as his final attempt to kill Hiroto again without triggering the vampires, he sends a hostage letter to Primaria about exchanging Sōichiro with Hiroto.
Back at Primaria Castle where Mimia is comforting Hiroto, a messenger send the letter and according to the letter, Sōichiro is alive but Phyllis Assassins gave them an ultimatum to hand over Hiroto to them before sunrise or they will kill Sōichiro for their refusal to comply. Hearing the news not only worries both Astilis and Alvy, it also tempts Zeldis to kill the assassins only to be stopped by Excelis as she fears that it may got Hiroto killed instead. To save his friend, Hiroto volunteers himself for the exchange but everyone stops him because they don't want either Hiroto or Sōichiro to die. Thinking about his father's teaching, Hiroto finally thinks a risky idea and bet his life on it even if he doesn't know if it works.
At Dominus Castle's executive office, Zoppo, now being traumatized by the sights of dead bodies that include Galsh and other Phyllis soldiers. tearfully realizes that he has been manipulated by Phyllis into assassinating Hiroto. When Schut enters the room, he begs the ambassador to spare his life as he willing to do anything to repay his dead, only to be decapitated by Schut for he views him as a despicable pawn[Notes 14]. Meanwhile, Sōichiro overhears Zoppo's execution from his the room but hoping Hiroto never agree to Phyllis's ludicrous deal, only for him to hear that somebody informs Schut that Hiroto had agree with the exchange.
Outside, everyone is preparing for the hostage exchange while Raquel seeing Zeldis's and Excelis's sorrowful expression due to Hiroto's bold plan-leaving her to wonder what plan does Hiroto had in mind to save his friend. As Mimia and Sorceire are helping him to making his preparations, Hiroto begins to recall Excelis' own protest against his ploy and being to wonder if his latest plan going to work. Mimia tells Hiroto that heavens will be at his side, much to Hiroto's relief as if he regains his usual self.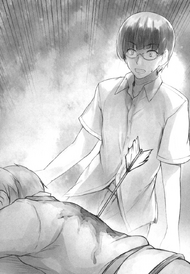 At dawn, both sides arrive at Dominus Castle's Square where Hiroto orders his allies not to come near him. When the Phyllis guards brings out Sōichiro who argues with his friend for his senseless sacrifice despite his vital role to everyone in Salabria, the exchange is being interrupted by an arrow that shoots Hiroto's back (of which was staged by Alvy who is inside the carriage hidden away from the crowd) and causes him to bleed, much to Sōichirō's horror. Initially confused by such scene, Phyllis Knights are appalled to see Salabria Allied Forces charging towards them and they are surrounded. Under Zeldis's command as their revenge for trying to "kill" Hiroto, they slaughter all Phyllis Knights including Schut. As for Sōichirō, he is so shocked to see his friend's apparent "death" that he laments and scolds him for his self-sacrifice to save him, only to hear his friend's wimping voice and other allies' arrival, especially Curele who immediately hugs him after the rescue. After hearing Hiroto's explanation about pretending dead in order to save him, Sōichiro is angry about his friend's suicidal plan but he is relived to see his friend is still alive.
Epilogue (Part 1)
Hiroto the Margrave of Hybride
3 days has passed since the incident, Babylos is descended into chaos when vampires drop several Phyllis generals' beheaded heads as their warning for their attempt on killing Hiroto, much to the fear of both Eesh and Abrahim as latter mumbling his failure of eliminating the Diferente[Notes 15]. Raquel, meanwhile, leaves Salabria one week later while recalling her last experience of witnessing the vampires' prowess and Hiroto's true character, specifically his selflessness in rescuing both her and Sōichiro from danger. To the point viewing the Diferente more competent than Moldius[Notes 16] and even wants to have him as her prime minister had North Phyllis still exists. When she returns home, she learns from her retainers about their protest against Hiroto behind her back and scolds them for their incompetence, while reminds them that she would be dead if it wasn't for Hiroto's quick thinking and his bonds with the vampires. Elsewhere, 40 Phyllis spies gather at a nearby inn and plan on retreat to Phyllis only to be killed by Delegelis.
At Emperia, Moldius and his ministers (sans Sobrinus and Panopticus) are shocked and appalled to hear Hiroto's near assassination and bitterly realize that his "uprising" was actually orchestrated by Phyllis via its conspiracy with Lujud. Sobrinus not only sarcastically praises both Finnath and Univestel for their "wise" suggestion to have Lujud instead of Tigre as Boarder Protector, he also implores Moldius to punish Lujud while promote Hiroto as the Margrave of Hybride as his apology since the Diferente is now proven innocent. Universtel initially disapproves as he still antagonizes the vampires only to be chastised by Sobrinus for not learning a lesson from this incident. After mulling for a while [Notes 17], Moldius eventually relents and follows Sorbinus to Salabria and meet Hiroto in person. While Universtel returns to the Elven Association with regret as he reflects his folly for falling into Phyllis's scheme, Panopticus on the other hand confronts Infilia and calls her out for her miscalculation about Hiroto that almost ruining his plan; and even when Infilia warns him about how "dangerous" Hiroto truly is, he silences his aide with a rhetorical question about living at Hybride either as a ruined kingdom under his rule or a peaceful one without him.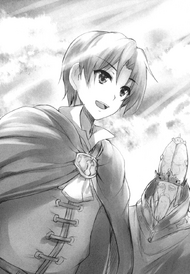 On the next day, Moldius and Sobrinus visit Primaria and meet Hiroto and his allies. As his apology for misjudging the young Diferente that brought disastrous results, he appoints Hiroto as Margrave of Hybride and guarantees that his position will never be affected within 5 years. As soon as Hiroto accepts Moldius's apology and become Hybride's youngest Margrave, everyone especially his allies are clapping their hands and congratulating the youngster for his new position.
One week later, Hiroto and his allies are going to Neka for Darmur's the hot springs where Sōichirō is bating with Curele whilst Hiroto is enjoying his fun the 4 women (Valkyria, Mimia, Sorceire and Excelis) surrounding him.
Prologue (Part 2)
Metis the Female General of Phyllis Kingdom
Part 1
Somewhere at Jugurtha of Phyllis, a general by the name Metis receives an emergency letter from Babylos in regards of its chaos as the result of failure in assassinating Hiroto.
Part 2
Part 3
After listening to both Metis and Gardel, Eesh appoint the latter as Grand Commander of Phyllis Army while ordering the former to go to Jugurtha in order to not only defend the boarder, but also investigate Hiroto and the vampires in order to think a strategy for a counterattack.
Plot (Part 2)
Gezerkia's Attack onto Orsia Again
Part 1
(To be added...)
Part 2
(To be added...)
Part 3
(To be added...)
Part 4
(To be added...)
Part 5
Just as Gezerkia and others are reaching Chrissis Castle, however, they stumbles across a vampire-of whom they recognize as one of Salabria's vampires-and to the Red-Haired Vampire's dismay, they are informed that Hiroto was waiting for them at Chrissis Castle's gates after having all the soldiers to drop their weapons.
Upon the arrival of the Red-Wing Vampires, Gezerkia ignores Hiroto's greeting and demands to see the castle lords until she meets Gundogan and hears his butler's announcement regarding the termination of Bermed Forest Reclamation for 2 years. Even so, Gezerkia refuses to accept Hiroto's proposal until she reads both the official parchment and Zeldis's letter that both him and the elves (Secondaria and Primaria) were against Orsia's forest reclamation out of their friendship with her. Hiroto then invites Gezerkia into the castle and when she meets the castle lords, she wants to kill them even though Hiroto tells her that they has compensated the forest reclamation via their resignation while warns her the consequences of defying Margrave's orders. As Gezerkia still isn't convinced, Hiroto brings treasures and red wine barrels to her and claims these are from Moldius who thanked them for saving Hybride. Eventually, Gezerkia complies to Hiroto's proposal and spares the 3 castle lords and signing Hiroto's parchment, solidifying the Gezerkia Vampire Clan's alliance with Hiroto. As their celebration for Orsia's cancelling Bermed Forest Reclamation within 2 years, Gezerkia and her followers join Hiroto in a party.
Part 7
(To be added...)
Part 8
(To be added...)
Part 9
(To be added...)
Luttius' Visit and Panopticus-Universtel Rivalry
Part 1
(To be added...)
Part 2
(To be added...)
Part 3
(To be added...)
Part 4
At Emperia, almost every aristocrats and ministers hear the news about Hiroto but they belittle him so much that they assume that he will "doom" Hybride. Panopticus, on the other hand, is delighted to read this news as he views that having Hiroto as a Margrave was the wisest decision ever made.
Part 5
Part 7
(To be added...)
Part 8
Universtel strongly argues that the Olsia incident was the result of "over relying" the vampires and the argument between 2 ministers heats up when Elven Elder insists that despite the Prime Minister explains that losing Gezerkia Alliance will result unprecedented consequences for Hybride, only for the former to be rendered speechless when the latter mentions Hiroto's report about one "Hagar merchant" that could be one of Phyllis's spies.
Part 9
(To be added...)
Elven Ambassador's Visit onto Babylos
Part 1
(To be added...)
Part 2
(To be added...)
Part 3
(To be added...)
Part 4
(To be added...)
Part 5
(To be added...)
Part 6
Hybride's Margrave and Phyllis's General
Part 1
At Jugurtha, Metis receives a letter from Hagar merchant regarding the ceremony and when she learns that Zeldis and Gezerkia have attended the ceremony together, she becomes frustrated as she realizes that Hiroto was one step ahead of her by having the vampires to check on Phyllis's move. Unbeknownst to Metis, however, Hiroto travels to Jugurtha via Air Carrier and he is so sadden to see dire situation that he fears that an uprising would be inevitable if this thread continues.
Part 2
(To be added...)
Part 3
Part 4
Meanwhile, Metis is surprised to see Hiroto's carefree letter as she reads that he wishes to have a talk with her. Initially assuming the Diferente as a "fool", she smiles instead as she thinks that he want to face her even though he possibly knows about Phyllis's trap for him. Therefore, Metis agrees to meet Hiroto.
Part 5.1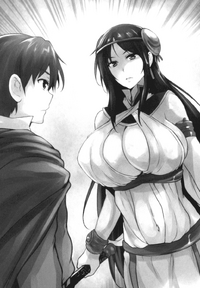 On the next day, Hiroto and his peers depart for Jugurtha's harbor and meets Metis under the protection of both elven guards and Zeldis's vampires[Notes 18]. During the meeting, Hiroto teases Metis about their respective "traps"[Notes 19] and even when she threatens him that she can kill him now, he replies that she couldn't do it because his death will ignite the vampires' and elves' wrath for revenge; moreover, even if he is given a chance to kill her, Hiroto thinks this ends up ruining both kingdoms' diplomacy, garnering her interest towards him. Later, Metis notices a stack of coffins and while she is shocked to learn that they contains 50 well-preserved[Notes 20] dead Phyllis knights, she is more baffled to see Hiroto praising at them despite his near assassination. Anyways, Phyllis soldiers inspect the coffins for one hour but they find nothing wrong with them. Hiroto then bids Metis farewell and informs her that he will come again tomorrow. When Metis murmurs her confusion about Hiroto's ploy, her subordinates request to kill him but she points at the vampires and warns them that Hiroto's death will make both Babylos and Eesh vulnerable to the vengeful vampires' attack.
One day later, Hiroto visits Metis again for a talk but rejects her gifts. Surprised, Metis asks Hiroto if his plans to attack Phyllis and when he replies that he claims that doing so will bring burden to his people, she threatens that Phyllis will invade Salabria at anytime only for Hiroto see through her lies due to Jugurtha's condition and warns her about possible peasant revolt if Phyllis continue to tax them for resources. Charmed by his words, Metis offers Hiroto a chance to serve Eesh but he declines as he claims that he already had friends at Salabria, further piquing her interest. The meeting ends with Hiroto leaves Jugurtha unharmed and when Metis confronts her subordinates who give up on killing him, one of them replies that as much as they loathed Hiroto and tempted for revenge, they are astonished to see him handling their fallen comrades carefully. Viewing Hiroto as the rarest person she had ever met, Metis yearns to meet him again someday.
Massacre of Salabria Elven Ambassadors
Part 1
(To be added...)
Part 2
(To be added...)
Part 3
(To be added...)
Part 4
(To be added...)
Part 5
(To be added...)
Part 6
Unbeknownst to the vengeful guards, however, one elf escapes the massacre and using days of travel back to Secondaria.
Part 7
The guards' "celebration" for their vengeance is short-lived, however, as Gardel is so mortified to learn about the murder of the Salabria's elves' that he chastise them for it and immediately report the incident to Eesh. When Eesh and Abrahim interrogate the guards for the murders, one guard claims that Hybride elves deserved to die for the deaths of his family member and comrades, only to be chastise by Gardel again for killing the wrong enemy. Fearing the elves' possible exodus from Phyllis, Gardel and Abrahim urge Eesh to apologize to Babylos' elves and send the corpses back to Hybride, but the king stubbornly dismisses the general's plea as he views apologizing means admitting Phyllis's shame. Whilst Abrahim becomes speechless due to the king's rage, Gardel angrily leaves and says that he will not going to care what will going to happen next.
Hybride's Vengeance for Salabria Elves
At Secondaria, Magnelis is worried Horatius who hasn't return from Babylos until a surviving elf return to the castle. To the shock of Hiroto and his allies, the elf reports the deaths of Horatius, Lérruz and others by vengeful Babylos guards. This shocking news causes Alvy to cry and vows retribution while Magnelis opts to cut off their trade with Phyllis, much to Sōichiro's fear as he worries that the war becomes inevitable. Whilst Zeldis leaves to report to Univestel about the incident, Hiroto guarantees Magnelis that he will bring justice to Secondaria elves by bringing the "hammer" onto Babylos whom he refers to Gezerkia. Magnelis is eternally grateful to Gezerkia as the latter tells the sad elf to leave everything to her.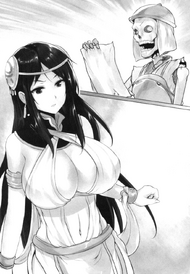 At Babylos, Metis is shocked to see 50 vampires[Notes 21] flying above the skies and when she listens to Carabella's words about Hiroto's protest over the elves' murder by Babylos guards, she denies anything and demands evidence only to grit her teeth to hear Carabella's reply about a surviving eyewitness. The vampires then fly across Babylos and deliver parchments to every household (especially the elves), and then fly back to the skies and leave-not without Gezerkia's grim warning to Eesh about facing judgement from Hiroto and the elves for murdering Horatius and others. The parchments, consist records of murdered elves written by Hiroto and Magnelis, shaken elves at Babylos and Eesh as the king is so mortified that he is regret for not listening to Gardel's suggestion earlier. Abrahim, who read the the parchments to the king, worries that Hybride's desire for revenge will worsen Phyllis's crisis if they don't act soon.
At Emperia, everyone is also shaken by the same parchment with Univestel proposes on sanctioning Phyllis and demands it's compensation and official apology. While Panopticus supports the sanction because of the crime of killing the elves, Finnath on the other hand against it instead as he deems it as exaggerated-until Univestel retorts for ignoring his kind's death and asks him what would he do if the enemies killed his daughter. Even so, Moldius remains hesitated as he regrets for turning a blind eye onto the elves' death but, after Panopticus reminds him that Eesh has killed the elves despite Hiroto's desire for peace, he opts to listen the ministers' discussion about Phyllis's compensations. Later, Panopticus remarks his anticipation to crush Phyllis.
Talks Between Hybride and Phyllis
Part 1
(To be added...)
Part 2
(To be added...)
Part 3
(To be added...)
Part 4
Meanwhile, Panopticus and Universtel arrive at Salabria and heading towards Secondaria first.
Part 5
(To be added...)
Part 6
(To be added...)
Part 7
(To be added...)
Part 8
(To be added...)
Part 9
(To be added...)
Part 10
(To be added...)
Part 11
During the break, Abrahim discuss with Metis about Hiroto whose silence, according to her, implies his intention to buy some time for his rebuttal[Notes 22], considering her experience of meeting the Diferente back at Jugurtha. When she asks him about Hybride's next move, Abrahim replies that they would threaten them with Phyllis elves' possible exodus but reassures her that with Luttius aid, Phyllis will get away form it. To Abrahim and Metis's shock, however, Gardel went missing and  his disappearance causes the Prime Minister to scream with horror. Meanwhile, Univestel and Panopticus talk about Hybride's bet for victory with the North Phyllis issue while looking at Hiroto who is taking his nap. Suddenly, Gardel and his soldiers interrupt Hiroto's nap as the former thanking him for the coffins of his fallen compatriots. Believes that Gardel is a good person, Hiroto praises these fallen soldiers as loyal and brave warriors despite his near assassination, garners the general's respect for him.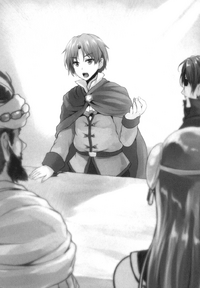 30 minutes later, the negotiation resumes with Abrahim informs Hybride Faction that aside from the dead Salabria elves, Phyllis will not compensate more than that and while he ignores Panopticus's warning about Phyllis Elves' possible exodus, he also demands Hybride to eliminate the North Phyllis Remnants in exchange for another non-aggressive solution. Just as Panopticus and Univestel are about to comply to Phyllis's terms, however, Hiroto intervenes and warns Abrahim that doing so will only ruin Phyllis[Notes 23] but the latter ridicules him for his attempt to persuade Phyllis. To everyone's surprise, Hiroto urges both Hybride[Notes 24] and Phyllis[Notes 25] to not discuss the North Phyllis subject because as far as he is concerned, both kingdoms just want to secure their boarders but their obsession for victory would have dire consequences for their boarders and their people[Notes 26]. Therefore, he suggests Phyllis to not only return the dead Salabria elves and pay an indemnity as compensation, but also promise Hybride that neither armies from both side will cross the boarders. Nobody utter even a word after hearing Hiroto's speech until Gardel claps his hands and agrees with his suggestion, followed by others. Thus, the negotiation goes smoothly when both factions sign their treaty and Phyllis Faction shake their hands with Hiroto.
After the negotiation, Hybride Faction bids Phyllis Faction farewell and on their way back home, Panopticus approaches Hiroto and praises him as a strategist for using military as his rebuttal. Univestel joins in but while he praises Hiroto's performance, he reminds the Diferente that he still disagree his view[Notes 27] before he then hiddenly giving Hiroto a gift and leaves.
Epilogue (Part 2)
Hiroto the Key to Peace
Upon his return to Babylos, Abrahim reports everything about the negotiation to both Eesh and Luttius and while the duo are satisfied to hear it, Eesh asks Abrahim about Hiroto and should they assassinate him due to his prowess but the latter urges his liege not to because he views the Diferente as a key to the peace between Hybride and Phyllis. Metis, meanwhile, is resting at Terchevel Castle and reread the contract and when she notices that neither armies from both kingdom cross the river, she laughs instead as she is impressed by Hiroto tactics that outsmarted Phyllis and further anticipating their next encounter. At Emperia, Moldius is delighted to see the safe return of Panopticus and Univestel but when the 2 ministers leave the king's room, the latter informs the former that they are still rival even after this event only to be warned by the Prime Minister that he will be his enemy if the Elven Elder try to overthrow Hiroto, much to Univestel's silence and leaves.
Prologue (Part 3)
Felkina the Countess from Hybride
However, there is a noblewoman who is strongly disapproves the peace between Hybride and Phyllis and her name is Felkina, the Countess of Sigil and an active supporter to the fallen North Phyllis Kingdom. In fact, Felkina is so furious to hear that Hiroto's doing was responsible for this peace between 2 kingdoms that she assumes that Moldius has "abandoned" Northern Phyllis remnants while belittling the Diferente himself, implying that Hybride cannot be trusted. So, she musters any noblemen available and meet Joachim for their next move by writing a letter to the fallen prince about Hybride's "betrayal" and the only way to revive Northern Phyllis Kingdom is through war.
Plot (Part 3)
Vampire Clans' Insurrection
(To be added...)
Metis's Visit onto Salabria
Part 1
At Dominus Castle, everyone is busy preparing for  Metis's visit upon Salabria with Valkyria and others stays behind while Hiroto and the Primaria Elves (Excelis and Astelis) heading to the harbor via a horse carriage. Few minutes later, Metis's ship arrives at the harbor and the general herself meets Hiroto and Primaria Elves (Excelis and Astelis), then orders her men to carry the malt given by Hiroto and follow the trio into the carriage that heading for Primaria. 
Part 2
Part 3
Part 4
Part 5
Part 6
Metis's Visit onto Salabria
Part 1
At Dominus Castle, everyone is busy preparing for  Metis's visit upon Salabria with Valkyria and others stays behind while Hiroto and the Primaria Elves (Excelis and Astelis) heading to the harbor via a horse carriage. Few minutes later, Metis's ship arrives at the harbor and the general herself meets Hiroto and Primaria Elves (Excelis and Astelis), then orders her men to carry the malt given by Hiroto and follow the trio into the carriage that heading for Primaria. 
Part 2
Part 3
Part 4
Part 5
Part 6
The Pipe Dream of Reviving North Phyllis
Part 1
(To be added...)
Part 2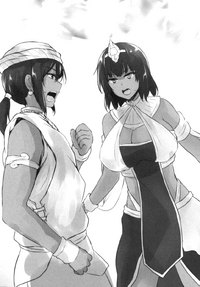 When both Joachim and Felkina return home, they confront Raquel who scolds her brother for his reckless meeting with Moldius and even Joachim argues that he is willing to die to fulfill his dreams of reviving North Phyllis, she calls him a fool for forgetting their fallen retainers' sacrifice in ensuring the siblings' survival after North Phyllis's fall. Therefore, she demands him to write 2 apology letters to Moldius and Hiroto while calling Felkina out for her rudeness towards Hiroto, further reminds her that he is a hero who cares for the people and boarders' security. Disgusted by Raquel's defense of Hiroto[Notes 28], Felkina retorts that they will going to revive North Phyllis regardless only to be criticized by an unfazed Raquel for her delusions. Before she leaves, Raquel tells Felkina not to let Joachim to do anything rash and claims that those who don't know restrain will never fulfill any dreams, leaving both Joachim's and Felkina frustrated and confused by Raquel's refusal to join their causes. On the next day, they leave their mansion with their supporter in order battle against Phyllis, not knowing that Infilia is tailing behind them.
Part 3
Elsewhere, Hiroto and Sōichiro are meeting with Gezerkia in order to allow Metis and Zeldis to hold a meeting.
Part 4
(To be added...)
Part 5
(o be added....)
The War Between Phyllis and North Phyllis
Part 1
Part 2
Part 3
Part 4
Part 5
Part 6
Part 7
Part 8
Meanwhile, at Phyllis's Abib Village of Jugurtha, the villagers also stop their rebellion when they eat the breads that were made by wheat [Notes 29]distributed by Phyllis soldiers. With that, the North Phyllis Remnants' rebellion is effectively extinguished for good.
Meeting Between 2 Enemies
Part 1
Part 2
Part 3
Part 4
Part 5
Part 6
Part 7
The meeting begins at a small house where Metis and Alvy rendevous with Hiroto who arrives with Felkina and Joachim. In spite of Felkina's insult to him for "shamelessly" ruining their plans, Hiroto calmly chastises both her and Joachim for carrying out their unhealthy dogmatism of reviving North Phyllis without even considering its uncertain future[Notes 30] and its dangerous consequences to Hybride [Notes 31], Phyllis[Notes 32], and even North Phyllis remnants as well [Notes 33].Just as Hiroto is about leave their fate to Moldius, Felkina remains defiant even after being humbled by the Diferent's rebuttal by provoking him as a "nobody" without the vampires and the North Phyllis Remnants will hate him eternally for it. Fortunately, Raquel intervenes as she not only chiding Joachim the trouble he caused for everyone especially Hiroto[Notes 34], she also corrects Felkina that North Phyllis will cooperate with Hiroto whether they like it or not, rendering the Countess speechless. With that, Metis concludes that Hiroto is victorious in this negotiation.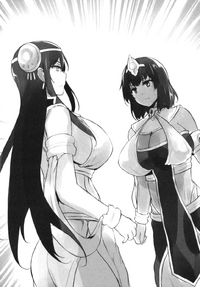 As everyone leave the house, Raquel and Hiroto stumble upon Metis along the way and even with her initial nervousness to meet her enemy again, through Hiroto's assurance and encouragement, she bravely apologize to Metis for Joachim's behavior and when Metis kneels down and kisses her hand as her respect, she begs the general not to kill her brother as she fears that his execution will deteriorate the relationship between Hybride and Phyllis. As Metis agrees with her request, Raquel bids her farewell and she is escorted by 4 elven guards to leave the castle. Feeling satisfied to see Raquel's true value, Metis then smiles at Hiroto as she is impressed by his caliber so she will holding some gifts and for seeing him as an intriguing person while planning to deliver him some gifts as her appreciation for arrangement to which Hiroto replies that he will anticipating her visit Hybride someday. When she leaves and sees the stars after the departure of both Hiroto and Alvy, Metis remarks that her journey to Salabria is not wasted since she is satisfied to learn valuable stuff along the way.
Epilogue (Part 3)
The Exiled Prince's Wish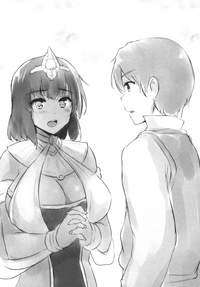 Upon her return to Primaria Castle after her meeting with Hiroto and Metis, Raquel pities Joachim's fate that was resulted from his folly. Meanwhile, Joachim reflects his own recklessness [Notes 35]while Felkina blames herself for their failure to revive North Phyllis; when Joachim checks on her back wounds, Felkina claims that her injury is nothing compared to his failure and blames herself for it. This prompts both Joachim and Felkina recall their memories about Northern Phyllis's past-specifically the moment they step onto Terminus River's sands, all the while worrying their fates.
On the day before his transfer, both Joachim and Felkina meet Raquel again where the latter scolds her brother for his recklessness that injured Felkina's back. As his response to Raquel's question if he still plan to revive the Northern Phyllis again, Joachim tearfully[Notes 36] explains that he could at least able to see Terminus River had he successfully revive his homeland. Raquel then hugs Joachim and tells him that as much as she missed Terminus River's sands, she still thinks his action were reckless, while also comforts [Notes 37]Felkina by telling her that she will prevent Joachim's execution even if the chances are from slim to none. After setting Joachim off, Raquel sighs and recalls her bonds with her brother despite his flaws [Notes 38] and because she unwilling to see his execution, she seeks Hiroto for his help[Notes 39] [Notes 40]and grant her wish.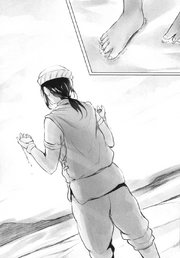 Meanwhile, Joachim becomes increasingly paranoid when he confronts Hiroto and Salabria soldiers who extorts him to somewhere against his will, via the Vampire Airborne Carriage. Despite being accused by the prince for trying to "kill" him before going to Emperia, Hiroto replies that he just wants to take him to somewhere and he will tell him once they reach their destination, much to the prince's lamentation for his supposed "demise" while reluctantly complies to Hiroto's instruction. To Joachim's shock, however, the carriage arrive at Terminus Riverbanks's sandy shoreline that once belonged to his former kingdom, and Hiroto tells him that it was Raquel's request to grant his wish but urges him not to go too far. Steeping onto the shoreline reminds Joachim of his good times at North Phyllis Kingdom before its downfall and shedding tears of joy. After taking some sands into a bottle, Joachim gives his ring and necklace to the vampires as his gift and apologizes to Hiroto for the trouble he has caused. When Felkina greets him minutes later, Joachim tells her that Hiroto and the vampires were actually granting his longtime wish.
Separation of Joachim and Felkina
10 days later, Joachim and Felkina meet Moldius who is disappointed at them for nearly ruining Hybride's diplomatic relationship with Phyllis. Rather than executing them, he spares them both but Joachim will be imprisoned for a year while Felkina is prohibited from visiting him. Upon leaving the Throne Room, Panopticus view this change of event intriguing because of Hiroto's accomplishment of stopping the duo's rampage without killing them. Outside Emperia, Felkina bids Joachim farewell and on her way towards Sigil, she remarks the prince's rare happiness due to Hiroto's mercy and as much as she bemoans over their thwarted plan, she has to repay the Diferente for Joachim's sake.
Letter from Joachim and Metis to Dominus Castle
Part 1
At Dominus Castle, Curele and the vampires are surprised to see jewelries presented by Joachim as well as his letter of gratitude to Hiroto and the 8 Vampires for granting his longtime wish. Even so, the vampires don't know what to do about it.
Part 2
Hiroto, meanwhile, is bathing at a nearby hot-spring with Valkyria and also reading the same letter.
Characters
| | | |
| --- | --- | --- |
| Major | Supporting | Minor |
Story Impact
Throughout the entire arc itself, Phyllis tries and fails to subjugate Hiroto even with Abrahim's schemes and top generals' (such as Metis and Gardel) prowess. In fact, this further solidifies Hiroto's vital position as the key of peace to both Hybride and Phyllis since he is not only one of few people who has the connection with the vampires, but also his amazing debate skills that capable overturn his disadvantage.
More stories about North Phyllis is partially revealed: According to it past, North Phyllis was a separated kingdom but it was annexed by Eesh during his war to reunify both North and South Phyllis as one kingdom. The fall of North Phyllis forced many remnants fled to Hybride as refugee while others stay behind at Jugurtha to observe Phyllis's move.

Raquel is a noblewoman-turned-refugee who once ruled North Phyllis before its downfall. Initially belittles Salabria and even finds Hiroto's relationship with the vampires as "disgusting", she eventually visits Salabria via her maid's suggestion after hearing nasty rumors about Hiroto at Emperia. Her visit onto Salabria changes her perspective forever as she not only learn the truth about Hiroto and the vampires that contradicts to the said rumors, she also witnesses their prowess as well as the Diferente's charisma that proves his caliber and might. Since then, Raquel becomes one of Hiroto's recurring allies throughout the series.
Joachim, the younger brother of Raquel, is also a nobleman-turned-refugee and one of antagonists in this arc.
The aftermath of Phyllis' failure in assassinating Hiroto have a profound effect for both Hybride and Phyllis.

With vampires dropping the beheaded heads of Phyllis assassins at Babylos, which are considered as a warning of harming Hiroto, Eesh and Abrahim have to send letter to Metis of Jugurtha for help.
Raquel is the only survivor to survive Phyllis Knights' invasion onto Dominus Castle after the deaths of Galsh and other bodyguards. At the same time, the incident she experienced enabled her to not only learn more about the vampires' true personality and prowess, but more importantly Hiroto's true character that contradicts Emperia's nasty rumors about him. This alone solidifies her as Hiroto's recurring ally in future story arcs.
Moldius, whose antagonism against Hiroto was due to his rage without realizing Phyllis's scheme, regrets for his wrong judgement about Hiroto again since the last arc but this time almost endangers Hybride by entrusting Lujud whose incompetence almost got the Diferente assassinated by Phyllis Knights. To rectify his mistakes, he appoints Hiroto as the new Margrave of Hybride.

However, aside from Sobrinus and Panopticus, not all ministers or aristocrats are willing to acknowledge Hiroto: Univestel remains skeptical towards him but begrudgingly seek his help to negotiate with Phyllis for its compensation of dead Secondaria Elves at Babylos, though he still continues even after witnessing the Diferente's capability and he only acknowledge him after his future involvement at Noblesia. Finnath, meanwhile, remains hostile towards Hiroto despite his vital role in keeping Hybride's the stability and its diplomacy with Phyllis, to the point willing to join other antagonists in the later arcs to ruin the Diferente even if it would ironically endangers Hybride in the process-making him as one of few recurring antagonists in the series.

Due to his incompetence to see through Phyllis plan, Lujud is demoted from his Boarder Protector position and he had to resign as Hagar's governor under Moldius's degree. As the result, an elf by the name Ildols succeeds him as the new Governor of Hagar.
Hiroto is promoted as the Margrave of Hybride as Moldius's redemption for his for second yet fatal misunderstanding about him again. Since then, many characters in the latter arc address Hiroto with his current position.
In a twist of irony, for Phyllis's scheme in framing Hiroto as a "usurper" with a praise about him becoming "king", it foreshadows the Diferente's future feud with Hydran the Duke for the empty throne 2 years later.
More Phyllis figures are revealed in this arc, with Metis, Gardel, Kyne and others as its' notable citizens to the kingdom of the South.

Metis is introduced as one of Eesh's entrusted generals due to her beauty and intellect.
Gardel is also introduced as one of Eesh's strong loyal general.
The aftermath of Hybride-Phyllis negotiations bring significance to the story where Hiroto manage to bring peace to both Hybride and Phyllis with an unexpected plan-a plan that not even veteran ministers such as Panopticus and Abrahim could even think of. For this reason, Hiroto is seen as the key in

On Hybride side, both Panopticus and Univestel are so astonished by Hiroto's debates against Phyllis.
On Phyllis side, Abrahim, Abrahim and the generals (Metis and Gardel) are surprised are also astonished by Hiroto's to see an enemy is saving them from the crisis.
For this reason, Eesh gives up on assassinating due to Abrahim's remark about Hiroto. As the story goes on, however, their role is reversed with Eesh the king want to meet Hiroto while Abrahim ends up feuding with the Diferente due to his desire to regain Phyllis's former prestige.
Hiroto's subjugation of Joachim and Felkina bring significant impact to both Hybride and Phyllis: Not only this further solidifying the diplomatic relationship between Hybride and Phyllis, it also ends ends North Phyllis Remnants' futile quest to revive their fallen kingdom for good.

Due to their involvement in their war against Phyllis that will almost ruin the peace between Hybride and Phyllis, Joachim and Felkina were punished by Moldius by having both separated: Joachim will be imprisoned for a year while Felkina

Before his imprisonment, Joachim is taken by Hiroto and the vampires to one of Terminus River's shoreline which happens to be formerly his former homeland.
Felkina on the other hand still bitter about their failure in reviving North Phyllis and her only reason to "tolerate" Hiroto is because he granted Joachim his longtime dream instead of killing him. This still doesn't quell her one-sided animosity against the Diferente as she refuses to affiliate with him, and its only until the following events (and aftermath) of one arc she eventually (and begrudgingly) aided Hiroto and the vampires to the defeat the invaders from Magia. That event will eventually causes her full reconciliation with Hiroto and becomes one of his recurring allies since then.

Due to his amazing accomplishments that rescued Hybride in numerous occasions, Hiroto becomes a living legend throughout the continent but his reputation also makes a lot of enemies outside both Hybride and Phyllis, especially those who are still skeptical about the Other Species (specifically the vampires) such as people of Magia and Regulus.
Trivia
This arc is by far the longest arc in the series that features at least 3 books chronicling Hiroto's initial rivalry and eventual reconciliation with Phyllis Kingdom.
Notes
References