Hiroto Kiyokawa

Light Novel

 | 

Manga


Hiroto
Kana
清川ヒロト
Romaji
Kiyokawa Hiroto
Nickname
TBA
Casual Name
Hiroto
Characteristics
Race
Human
Gender
Male
Hair
Hazel Brown
Eye
Hazel Brown
Professional Status
Affiliation
Hybride
Occupation
Feudal Lord
Minister
Position & Rank
Castle Lord of Solum
Governor of Salabria
Margrave of Hybride
Prime Minister of Hybride (Temporary)
Imperial Consultant Officer
Member of Hybride Privy Council (unknown position)
Personal Status
Status
Alive
Relative
Unknown
Birth Place
Earth (Japan)
Debut
Light Novel
Volume 1
Manga
Chapter 1
Hiroto Kiyokawa (清川ヒロト Kiyokawa Hiroto)is the main protagonist of Kou 1 Desu Ga Isekai De Joushu Hajimemashita series. Once a normal high school student, Hiroto is dragged into an unknown world via a magic map alongside with his friend Sōichirōo. For these reasons, the two are considered as Diferente as they are unable to return to their world for 5 years and during these times, Hiroto sets up his journey in this new world starting by becoming Castle Lord of Solem.
Character Information
Edit
Appearance
Edit
Hiroto is a young man who possesses a slim body figure with a hazel-brown colored short hair. Prior to his entry into the new world, he is seen wearing a ordinary student uniform.
Personality
Edit
(To be added...)
Birth of a Genius
Edit
In his 4th grade, Hiroto and his parents had a parental meeting with his teacher who "worried" about his future due to his bad grades and incompatibility with his classmates to the point being called a "robot" due to his speeches like a girl-something Hiroto found insulting. Instead of being embarrassed about it, Junichiro laughed and while claiming that there was no humans made emotions during his/her explanation with logic, he deemed the teacher's remark about his son as a robot insulting because he viewed him as an amazing person who can persuade people; additionally, he also stated that some great men had.
The Milk Incident
Edit
Saving Ruki from Drowning
Edit
On one summer, Hiroto and his classmates were having swimming class. Dueinig the class, Hiroto jokingly told Ruki not to "step" on the milk but Ruki ignored him. At the same time, however, However, Hiroto didn't see Ruki out from the pool which caused him to worry that she may be drowning. So, after mulling his father's advice, Hiroto bravely dove into the pool despite his inability in swimming and saved Ruki whose drowning was resulted from his cramped legs; once he called for help, both him and Ruki were rescued by a teacher where he was relieved to see his classmate safe after seeing her holding the teacher and cried.
The following day after the pool incident, Hiroto and Junichiro were visited by the Akemiya Family and he was given some treats as their gratitude for rescuing Ruki from drowning. Whilst Ruki's mother apologized her daughter's behavior a year ago, Hiroto replied that helping a classmate was an obligation. To his confusion though, Hiroto saw Ruki lowered her head and remained silent despite her mother to thank him, prompting him assumed Ruki's rudeness. As the Akemiya left, Hiroto was praised by Junichiro and heard from him claimed a noble heart as a caliber that will accommodate all of mankind. However, despite garnered his classmates' and parents' admiration for him, Hiroto's relationship with Ruki remained sour until he received a chocolate on one Valentine Day which he viewed as her appreciation gift.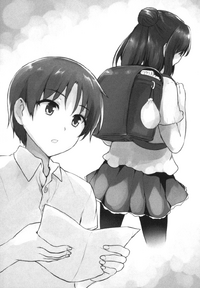 3 weeks until the end of the 5th Grade, Ruki announced her transfer to another school by April and a farewell party was held before the school's closing . On the next day, she gave Hiroto a letter and left the school with her parents.
At home, Hiroto read the letter and, according to the letter, Ruki thanked him for the rescue while apologized for the milk incident which still bothered her even when she was drowning into the pool-causing Hiroto to think Ruki was actually a clumsy yet helpful girl who just wanted to protect her friend. Hiroto also received a letter from Ruki's mother who, whilst thanking him for correcting Ruki from the milk incident, viewed him as a better politician in the future. Flattered yet confused by this letter, Hiroto then wrote a letter to Ruki and asked her opinion about such praise only to receive her reply that he was a better candidate than her. With the words of Ruki and her mother impacted his life, Hiroto's path for greatness began with him as a class president on his 6th grade.
Enter Into the New World
Edit
In spite of her seducing offer, seeing Excelis shaking frantically prompted Hiroto to wonder her desperation to stop Feuillet from becoming the Governor. Rather then rejecting her, he informed her that he yearned her but at the same time, he offered her a plan to beat Feuillet: him participating the Corectio. When Excelis was skeptical to his plan and warned him that doing will ends up increasing Feuillet's morale, Hiroto explained that the distrust between Solum Alliance and the Vampires will have serious repercussion to Salabria, and even she still think that defeating Feuillet was impossible due his own disadvantages, he explained that losing only counts when a candidate either gives up the competition, never enact the Developing Order entirely. When Hiroto further explains about Feuillet's strategy to gain advantages before the Corectio, Excelis insists that his chances of winning are slim because she still got Primaria's support, though she herself ends up shakes her head when Hiroto asks her if she really want to enact the Developing Order while denying Other Species's existence. Excelis's answer prompts Hiroto that they can win the election but rather than forcing her to cancel the Developing Order, he wants her to keep her stance until the final debate.
(To be added...)
Negotiation with Gezerkia
Edit
Volume 10
Edit
Volume 11
Edit
Volume 12
Edit
Magia's Invasion Attempt onto Hybride
Edit
Since his involvement in Hybride Kingdom's Mummy Crisis, Hiroto's reputation has spreed across the continent including Magia of the Northeast but the new king Urseus viewed him as an enemy.
Eventually, Magia Army's defeat by him and the vampire has further rising Hiroto's reputation across the continent.
Four Kingdoms Summit
Edit
(To be added...)
Volume 14
Edit
(To be added...)
(To be added...)
Rivalry with Freyas
Edit
(To be added...)
(To be added...)
(To be added...)
(To be added...)
Role in Pacifying the Rivalry Between Agnika and Gassel
Edit
(To be added...)
(To be added...)
(To be added...)
(To be added...)
Becoming a Member of Privy Council
Edit
(To be added...)
(To be added...)
(To be added...)
(To be added...)
Interestingly, due to him from another world Hiroto is immune to Valkyrie's vampire bite.
In Volume 9, it is revealed that Hiroto can't swim as he unable to finish 25 meter swimming contest.
By far, Hiroto is the only person who holds 6 positions during his time in Hybride: Castle Lord of Solum (Volume 1-3), Governor of Salabria (Volume 4-7), Margrave of Hybride (Volume 7-Volume 13, Volume 15-17), Imperial Consultant Officer (Volume 13 onwards), Prime Minister of Hybride (Volume 14 only)& Hybride's Privy Council Member (Volume 17 onwards).
Community content is available under
CC-BY-SA
unless otherwise noted.