| | |
| --- | --- |
| | Spoiler Alert: This article contains spoilers. Read at your own risk. |
Four Kingdoms Summit Arc is the 10th story arc of Kou 1 Desu Ga Isekai De Joushu Hajimemashita series and 4th and last story arc of Magia Saga. This arc illustrates the ongoing rivalry between Magia and Hybride when Urseus, now seeing Hiroto as his arch-rival since his first and humiliating defeat from the last arc, vows to avenge his defeat by hosting Four Kingdom Summit with his former teachers Cognidus and Dialogs at Regulus. While this arc further chronicling Hiroto's first meeting at the Four Kingdom Summit on Panopticus's behalf as the (temporary) Prime Minister of Hybride, it primarily contains two main stories as one with each introduces one of Hiroto's female rivals in their respective factions that will test his debate skills to the limit: The first story featuring Disgurd[LN 1] the female vampire of her Northern Clan, who is Magia's "ally" due to her bitter rivalry against Gezerkia, while the second and last story introduces Phyllis's Princess Freyas[LN 2], King Eesh's niece and heir apparent who, along with those who dissatisfied by Eesh's recent decisions lately, revives the rivalry between Hybride and Phyllis by waging a diplomatic war against the former in order to regain her kingdom's former prestige.
Prologue (Part 1)
Edit
Magia and the Northern Vampire ClanEdit
Somewhere north from Magia's capital lies a cave that housing the Northern Vampire Clan. Inside one of these tents, a vampire named Disgurd is trying her new clothes and asks the maid about her growing bust sizes and, to her joy, her maids praises her for it. Upon hearing Nestoria's arrival on Urseus behalf, Disgurd eventually meets her but a mere sight of the messenger's hair [Notes 1] displeases her. Nevertheless, Nestoria requests Disgurd for her clan's aid to help her lord and while the latter initially rejects the offer, she makes a deal with the former that she will listen to her if the guard can block her attack. Before Nestoria can even response, Disgurd draws her scimitar and attacks her without hesitation; forcing Nestoria to narrowly block the attack only to suffer a cut on her forehead, though it impresses Disgurd so much that she continues the negotiation with Nestoria. To convince Disgurd, Nestoria gives her a letter [Notes 2] and some jewelries as Urseus's "payment" for the vampires's cooperation with Magia. Rather than accepting the offer, Disgurd demands Nestoria to tell Urseus to see her himself while bring her more jewels.
Plot (Part 1)
Edit
Urseus's Compromise To the Northern VampiresEdit
(to be added..)
(to be added...)
(To be added...)
(To be added...)
(To be added...)
(To be added...)
The Attack of the Northern VampiresEdit
(To be added...)
(to be added...)
(To be added...)
(To be added...)
(To be added...)
(To be added...)
Visitation of Magia AmbassadorsEdit
(To be added...)
(to be added...)
(To be added...)
(To be added...)
Meanwhile, Hiroto reads the document and predicts that Urseus is still scheme to remove Hybride's vampires and whilst he tries to guess the king's next ploy, be it his conspiracy with Regulus or otherwise, he also wonders how was a vampire such as Disgurd-who loathes humans in every way-becoming the king's "partner" and visited Hybride on his behalf.
(To be added...)
(To be added...)
(to be added...)
(To be added...)
(To be added...)
(To be added...)
(To be added...)
(To be added...)
(to be added...)
(To be added...)
(To be added...)
Urseus and His Former TeachersEdit
At Regulus, Cognidas and Dialogs also hear the news about Magia's alliance with Northern Vampires and when they are commenting Urseus's actions that impacted the region, an elven guard informs them about the arrival of a messenger from Hybride. In spite of Dialogos's suspicions of Hiroto's ploy in keeping Regulus in check to the point trying to shoo the meesenger away, Cognidus opts to meet him since rejection will only deteriorating Regulus's relationship its neighboring kingdoms.
(To be added...)
(To be added...)
(to be added...)
(To be added...)
(To be added...)
(to be added...)
(To be added...)
(To be added...)
(To be added...)
Urseus's Visit at Hybride KingdomEdit
(To be added...)
At Olsina, Hiroto and Zeldis seeks Gezerkia and tells her about Disgurd and her clan's attack onto Emperia. Disgusted by her rival's action, Gezerkia tells her visitors everything about her bitter rival, as well as her fellow vampires' complains about them (herself and Zeldis) being human's allies during the Vampires' meeting. While he learns from Zeldis's suspicions that Urseus may be responsible to Disgurd's attack, Hiroto opts to stay at Olsina a little longer which makes Gezerkia happy as she has a lot of things to say to the Diferente.
The next day, Lagos, who is now staying at one of Magia's remote village, also hears this news from a soldiers but laments for being a pawn in Urseus's recent affairs.
(To be added...)
(To be added...)
(To be added...)
(To be added...)
(To be added...)
(to be added...)
(To be added...)
(To be added...)
(To be added...)
(To be added...)
(To be added...)
(to be added...)
(To be added...)
(To be added...)
(To be added...)
Suddenly, Hiroto smiles and whispers to Panopticus's ear about his plan which angers the Prime Minister though the latter opts to overlook this and tell the Diferente to keep this secret between them and Moldius.
When Panopticus and Hiroto arrive at Emperia, Moldius regains his vigor and tells the latter about Urseus's visit but Hiroto replies that he knew this through Panopticus's story and boldly declares that he will visit Regulus himself as Hybride's participation for the Summit, with a condition of 11 participants instead of 7 including the Prime Minister. With Hiroto's words confuses both him and his subjects[Notes 3], Moldius asks him why would he visit Regulus but his doesn't answer and smiles. Meanwhile, Sōichiro and Curele are visiting Gezerkia.
Hiroto's Visitation onto Regulus RepublicEdit
3 days later, the trio of Hiroto, Valkyria and Universtel arrive at Regulus as Hybride's representatives and their arrival stuns both Cognidus and Dialogos. While Dialogos hides behind the bookshelf, Cognidus on the other hand confronts his guests. After their introduction, Univestel pleas Cognidus to allow Moldius to bring someone with him for the summit, though the latter insists the king's participation or the summit will begins without Hybride. Hiroto then warns Cognidus that hosting a summit without considering the speaker's debate credibility [Notes 4] may have the dire consequences for everyone including Regulus, but the latter refutes that Urseus will "explain" his Sky Army during the summit. With his smile implies that he knew everything, Hiroto finds both Urseus's "Sky Army" and even his "apology" to Hybride dubious and to make sure the summit to be fair and just, he proposes that each king has to be accompanied by a "Prime Minister" while Valkyria adds that she will convince her father and Gezerkia to join the summit. Initially finding the proposal skeptical to the point wondering Hybride's chances of winning, seeing Hiroto's another smile alone eventually prompts Cognidus to reconsider and once his visitors leave his room, he tells Dialogs-who is eavesdropping the conversation the whole time- to prepare more seats for them.
Next, Hiroto plans to visit Leonidas but because Universtel refuses to join him, leaving him Valkyria to visit the prince instead. Leonidas initially pretends that he is not in his room until the messenger's words about Hiroto and Valkyria changes his mind and welcome his guests. During the meeting, the prince is so enchanted by Valkyria's beauty that he finds her interesting even though Valkyria herself find his attitude bizarre. Later, Leonidas turns to Hiroto and praises him for having an interesting "girlfriend" and even thanking them for the visit; as soon as his visitors leave his room, Leonidas anticipates their visit again. At the same time, Disgurd accepts Nestoria's "invitation" to the summit since the guard captain kneel before her despite her hatred against her.  Gezerkia on the other hand initially refuses to participate only to change her mind when Sōichiro informs her that Disgurd will attend the upcoming summit.
Prelude to the SummitEdit
(to be added...)
(To be added...)
(To be added...)
(To be added...)
(To be added...)
On the next day, Hiroto visits Leonidas who is so delightful to see him that he plans to make him as his Prime Minister once he becomes king, all the while murmuring his anger against Moldius. Before Hiroto leaves the room, Leonidas tells him to defeat Urseus as he vows to destroy his enemies by all means neccesary, even if it means resorting to deploy his army to do so, much to the Diferente's concern.
(to be added...)
(To be added...)
(To be added...)
(To be added...)
(To be added...)
(To be added...)
(to be added...)
(To be added...)
(To be added...)
(To be added...)
(To be added...)
(To be added...)
(to be added...)
(To be added...)
(To be added...)
(To be added...)
Even so, Urseus laughs as he see this as his best chance to crush Hiroto himself and before he and others leave, he tells the Hybride Faction to look forward the summit for the "peace" between 2 kingdoms, much to Zeldis and Gezerkia's ire due to his disrespect for Hiroto. As Moldius seemly content by Magia's "shaken" morale, Hiroto still worry about Hybride's disadvantage due to the hostility from both Magia and Regulus so he visits 2 more people before the summit: Disgurd and Eesh.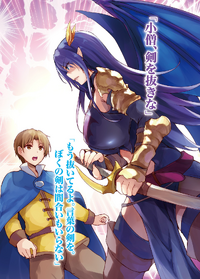 First, Hiroto visits the Northern Vampires faction where Disgurd is still sour over her meeting with Gezerkia, Zeldis and the Hybride Faction. Throughout their conversation, Disgurd verbally harasses[Notes 5]Hiroto with death threats and even asks him a "trick" question about her beauty. Not only Hiroto is unfazed by them to the point warns her that  her refutation will be tainted if she kills him, he also quickly answers her question by saying Gezerkia and Valkyria are prettier [Notes 6]  than her, and even advises her not to glare at people too much for it will ages her terribly, leaving Disgurd to be overwhelmed by irritation and confusion. Just as Azan stops Disgurd from further threatening their guest, Hiroto tells them about the summit, holding her hands and urges her to refrain herself in spite of him knowing her bitter rivalry with Gezerkia and leaves. Whilst Azan is so astonished by Hiroto's feat that he views his words are as sharp and powerful as a weapon, Disgurd on the other hand becomes uncharacteristically quiet because unlike Nestoria and Urseus, Hiroto wasn't afraid of her even from the beginning.
Next, he visits the Phyllis Faction and his presence surprises both Eesh and Abrahim, especially the king who holds the youngster's hands once he learns the Diferente's new position and tells him that he has yearned to meet him. As soon as both Hiroto and Eesh are chatting together, especially about Metis, Hiroto then tell the king about a surprising secret about Urseus and his schemes.
At Emperia, Raquel is accompanying Sōichiro and Curele while anticipating the summit itself but when books dropping from Sōichiro, she shivers as if there is a bad omen about Hiroto's "defeat". Meanwhile, Panopticus and Felkina are discussing Hiroto's new position but the former still finds Hybride's chances of winning are slim because Hybride will going to face all 3 enemy kingdoms at once.
First Four Kingdoms SummitEdit
(To be added...)
(To be added...)
(To be added...)
(To be added...)
(To be added...)
With 3 kingdoms favoring the treaty, it seems Hybride is in a deadlock with everyone from Dialogos and Cognidas to Abrahim mounting their pressure onto Moldius to sign the treaty.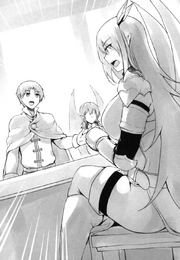 Suddenly, Hiroto urges Moldius not to sign the treaty while he points out many of it contradictions within the treaty-specifically the third one regarding Hybride's "possession" the vampires which he corrects as "accepting their aid" instead since he deems word such as "possessed" is rude for the vampires, to Zeldis's delight and Disgurd's bewilderment for she never heard of it. Urseus, however, insists that what he did was "right" due to other's "perception" towards the vampires until Hiroto asks him if this means that the Northern Vampires "have joined" Magia. While Disgurd angrily denies it since her "reason" to aid Magia was because the king has kowtowed to her, Urseus enforces her claim by explaining that both Magia and Northern Vampires are just allies only for him to be criticized by Hiroto for his contradiction earlier, causing the vampires (Zeldis, Gezerkia and even Disgurd) to laugh as the Red-Haired Vampire silently calls her rival an illiterate fool for underestimating the humans.
Anyways, the summit continues with Hiroto asking Urseus about the documents to prove the agreement between Magia and Northern Vampires.
(To be added...)
(To be added...)
(To be added...)
(To be added...)
(To be added...)
(To be added...)
(To be added...)
(To be added...)
(To be added...)
To add his insult onto Hybride, Urseus intentionally mispronounces Hiroto's position while taunting Hybride by asking a mocking question about it's "preference" for war over peace, seemly rendering Hiroto speechless that prompts everyone to assume his to everyone's assumption about his apparent defeat.
Instead, Hiroto smiles and shrugs off Urseus's taunt as petty provocation and begins his counterargument: Given what Magia did to Hybride weeks ago, Hiroto deems Magia untrustworthy because he doubts Urseus's desire for "peace" was sincere due to him resorted to use shady schemes to achieve his ambition. Urseus refutes by claiming that he had "repented" from his "naivety" but ends up triggered by Hiroto's sarcastic question about his "repentance"[Notes 7] and he makes a wrong move by refuting a wrong rebuttal that actually helping Hybride-casuing him to rervously asks Hybride to remove one of its "shields". When Hiroto calims Magia was using the vampires as "spears" to attack Hybride, Zalia provokes him by brings up Hybride Vampire's "terror" onto Babylos and blames him for it, only for her and Disgurd being rendered speechless by Zeldis's scolding for not knowing the truth behind the Babylos incident while endorsing the Northern Vampires' attack onto Emperia.
Even so, Cognidas insists Hybride to remove its "shields" for the sake of "peace" only to be questioned by Hiroto if this really gurantee the "peace" everyone sought for. When Dialogos asks him if this means Hybride will keep its "shields", Hiroto explains that while removing them may "satisfies" the first three kingdoms, Hybride will be humilliated and people such as Leonidas and Hybride elves will seek retribution through war. As Urseus initially ridicules Hiroto for his "vivid imagination", he[Notes 8][LN 3] and others (specifically Cognidas[Notes 9] and Dialogos) are completely staggered to learn Diferente's second visit onto Leonidas when he citing the prince's quote about crushing all enemies by any means necessary, as well as his warning about a potential elven revolt[Notes 10] that will doom all 4 kingdoms if Hybride signs this treaty. Unable to find any flaws within Hiroto's debate, both Cognadus and Dialogos have to postpone the meeting that severely lowers Urseus's momentum in spite of his resistance[Notes 11], to Moldius's relief; to make things even interesting, Eesh makes a suprising move by supporting Hiroto while hushing Abrahim from utter even a word. To conclude the summit, Hiroto suggests to discuss the Sky Army in another day and when Urseus insists to continue the debat, Cognidas immediately accept the Diferente's suggestion and stops Urseus out of his recognition for the Diferente's value to the senate[Notes 12], much to Eesh's satisfaction. Therefore, Hybride wins the first summit and as celebration, Regulus is holding a banquet in the evening.
Epilogue (Part 1)
Edit
The Banquet for HirotoEdit
During the banquet, almost every noblemen except Magia Faction[Notes 13] meet Hiroto who tells both Eesh and Cognadus to visit Hybride someday. As Gezerkia is talking with Moldius, Disgurd [Notes 14]chats with Zeldis regarding his trust for the humans and when the latter replies that all of this was due to his meeting with Hiroto, causes her to fell so envy for both Zeldis and Gezerkia's friendship with such amazing ally that she dubs Hiroto as an "unbreakable sword". Urseus and Zalia, meanwhile, fell bitter about their defeat to Hiroto as the king woefully laments his inability to foresee his archrival despite his best schemes[Notes 15][LN 3], but Zalia remains confident that her king will avenge his humilliation someday. Meanwhile, Cognidus is so astonished by Hiroto's caliber and charisma that he not only commends Hybride for having its champion, but also considers him as a core to the peace of all 4 kingdoms. At the same time, Moldius thanking Eesh for rejecting Urseus's "peace" proposal, of which seemly eases Germesh's punishment.
Returning to Respective HometownEdit
2 days later, Eesh and Abrahim are returning to Phyllis via his carriage. While the king is so satisfied to meet Hiroto in person that he yearns to appoint to have the Diferente as his prime minister, Abrahim on the other hand feels unhappy for some reason.
(To be added..)
Prologue (Part 2)
Edit
Freyas the War Princess of Phyllis KingdomEdit
(to be added...)
Plot (Part 2)
Edit
Abrahim's Betrayal and Alliance with MagiaEdit
(To be added...)
(To be added...)
(To be added...)
(To be added...)
(To be added...)
(To be added...)
(To be added...)
(To be added...)
Second Four Kingdoms Summit and Urseus's Third DefeatEdit
(To be added...)
(To be added...)
(To be added...)
(To be added...)
(To be added...)
(To be added...)
(To be added...)
(To be added...)
The Argument Between Princess and Phyllis's GeneralEdit
(To be added...)
(To be added...)
(To be added...)
(To be added...)
(To be added...)
(To be added...)
Hiroto's Advice for Urseus Regarding Magia's PathEdit
Meanwhile, Urseus and Zalia are still plotting to defeat Hybride even after his former's third defeat until they stumble across Hiroto who just want to befriend with them despite their hostility. As Urseus blames him for refusing to remove Hybride's "Sky Army", not only Hiroto replies that doing so will only make the king like a fool for making Leonidas an enemy, he also have a private talk with Zalia that stuns the Elven Prime Minister.
(To be added...)
(To be added...)
(To be added...)
(To be added...)
(To be added...)
(To be added...)
(To be added...)
(To be added...)
(To be added...)
(To be added...)
(To be added...)
After the banquet, Urseus enters into his bedroom with Nestoria but unable to sleep due to Hiroto's words via his conversation with Zalia. This prompts him to ask his trusted guard if he was doing the right thing but her answers only makes him feel even more uneasy for he still doubting himself.
(To be added...)
Magia's Vicious Beatdown onto LulukEdit
(To be added...)
(To be added...)
(To be added...)
(To be added...)
(To be added...)
(To be added...)
(To be added...)
(To be added...)
(To be added...)
(To be added...)
(To be added...)
(To be added...)
(To be added...)
(To be added...)
(To be added...)
(To be added...)
(To be added...)
(To be added...)
(To be added...)
Vampires' Wrath for RevengeEdit
The following aftermath of Luluk incident, Aden's Spiritual Light is finally restored and the residents give some food to the Skeleton Tribe as their tribute after hearing Hiroto about the aforementioned incident. 2 days later, Disgurd visits both Slara and a recovering Luluk and she is so moved by the duo's conversation about Hiroto that she orders Azan to gather everyone for their attack onto Magia, joined by Zeldis and Gezerkia who also wish to avenge Luluk's injuries sake. Therefore, the Vampire Alliance is forged and they all leave for Bahram without notifying Hiroto.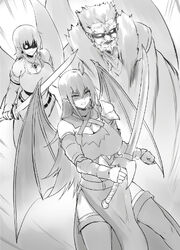 On the next day, Vampire Alliance invades Bahram in order to find Urseus who is seen fleeing with Nestoria and some guards. Unfortunately for Urseus, his escape is blocked and he is almost killed by Disgurd when he tries to greet her. However despite the vampires cahsitises him for Aden soldiers' atrocious act onto Luluk the little vampire from an opposing faction, Urseus denies anything and calls the Northern Vampires out for breaching their agreement with Magia instead, causing their argument quickly turns violent when both sides prepare for a bloody battle. To everyone's surprise, Lagos arrives just in time to pacify the situation and begs the vampires to forgive Urseus and even willing to sacrifice himself as Magia's atonement when he learns from Azan about Lulik's vicious beatdown. While Disgurd may changes her mind and forgives Ursues out of Lagos's sincerity, she further warns the king not to seek the Northern Vampires for help again,adn then also threaten him that she will kill him if Magia repeat this mistake again. Moved by Lagos's timely rescue, Urseus plans to make him as a prime minister again.
Reignited Rivalry Between Hybride and PhyllisEdit
(To be added...)
(To be added...)
(To be added...)
(To be added...)
(To be added...)
(To be added...)
(To be added...)
(To be added...)
(To be added...)
(To be added...)
(To be added...)
(To be added...)
(To be added...)
(To be added...)
(To be added...)
(To be added...)
The Margrave and the PrincessEdit
(To be added...)
(To be added...)
(To be added...)
(To be added...)
(To be added...)
(To be added...)
(To be added...)
(To be added...)
(To be added...)
(To be added...)
(To be added...)
(To be added...)
(To be added...)
(To be added...)
(To be added...)
(To be added...)
Epilogue (Part 2)
Edit
Princess's Humiliation and Grudge Against HirotoEdit
At Babylos, Eesh berates Freyas for her own defeat and while he tells her to go to her room and reflects herself, he also learns from Djoser about her close effort to surpass Hiroto. Meanwhile, in her room, Freyas is so embarrassed by her first defeat by Hiroto that she can't sleep because she keeps dreaming about him, thus vowing to avenge her defeat. Meanwhile, Abrahim bitterly laughs.
(To be added..)
Zieglete's Assassination Attempt onto the "Demon"Edit
(To be added..)
Characters
Edit
Story Impact
Edit
Throughout the entire arc itself, the trio of Magia, Regulus and even Phyllis try but fail to defeat Hybride despite various schemes orchestrated by Urseus, Abrahim and Freyas.
Regulus's antagonistic views against the vampires are explained due to the relationship Cognidus and Urseus as former teacher and student, mostly due to the former's strong faith for the young king's capability in ruling the entire continent until he gained Disgurd, a vampire, as his ally to crush Hybride. Its only until Hiroto's presentation during the Four Kingdoms Summit seemly dispels its antagonism against the vampires as Cognidus recognizes Hiroto's true prowess.
The entire arc also introduces Hiroto's 2 female rivals such as Disgurd and Freyas, both are Hiroto's enemies in separate occasions who antagonized him only to be humbled by Hiroto's prowess.

Disgurd is introduced as Gezerkia's bitter rival and Hiroto's enemy alongside Urseus and Cognadus and Dialogs. Unlike Zeldis and Gezerkia, Disgurd distrusts and scorns humans because she views them as inferior beings and even manipulating their fear for the vampires as her advantages, with Urseus's compromise as one of these examples. It is only until her first interaction with Hiroto changes her life as the Diferente not only isn't intimidated by even her death threats, as well as his amazing performance during the summit, but also his interactions with an serve injured Luluk that displays his genuine bond with the vampires seemly mellows her heart a bit.
Freyas is introduced as the Princess of Phyllis who is renowned as Eesh's niece and heir apparent. From archery to sharpness and bravery in battlefield, she is beloved by many generals in her home kingdom. Sadly, not even her best abilities enables her to overcome Hiroto's cunning as she is unable to read his mind to the point becoming confused by his words that holds her back. Even so, this only escalates her rivalry with Hiroto as she vows to avenge her humilliation someday.
Whilst making a minor yet crucial cameo appearance from the last arc, Leonidas is properly introduced as the Prince of Hybride and Moldius's only son and heir apparent. Unlike his father, however, whilst he and Urseus are political rivals due to their conflicted personality and ideology, Leonidas is a lecherous prince who spends most of his time wooing women and cares little about politics even when Hybride is in danger; not helping matters is that Hiroto's second visit displays Leonidas's true personality as a brutal prince who practice brutality to crush his enemies, despite his friendship with the Diferente and allies (especially vampires such as Valkyria and Curele-making him a wild card.
The aftermath of Hiroto's victory Four Kingdoms Summit impacts all 4 kingdoms respectively,

Disgurd fells envy for both Zeldis and Gezerkia to have Hiroto-the only human who isn't shaken by even her deadly threats-as their ally, especially after witnessing his debate enabled him turn against all odds despite Magia-Regulus's vicious schemes against him. Since then, she begrudgingly befriends with Gezerkia in order to get close with Hiroto, making her as one of may Hiroto's allies.
Since the last arc, Urseus is humbled by Hiroto as the king now loses to the Diferente 2 times in different occasions: The first one was the result of Hiroto's rebuttal that counters his almost "perfect" plot by bringing up his longtime rival Leonidas. In fact, all of these defeat only add Magia's (which extends to Zalia) bitter grudge against Hiroto.
Cognidus begins to observe Hiroto due to his astonishing charisma and incredible caliber that prompts him to see him as an important figure to not just Hybride, but also within the continent itself.
Whereas Eesh seemly consented to see Hiroto's caliber in person, Abrahim other hand is less impressed by the Summit as he now viewing his king as senile for losing his chances in proving Phyllis's prominence without Hybride's influence. This leads to Abrahim's desperation to the point seeking both Urseus and Freyas[Notes 16] as he resorting on helping Urseus is another fail attempt in humiliating Hybride.[LN 4].
Luluk's vicious beatdown by Aden soldiers bring significant impact to the continent.

Disgurd and the Northern Vampires are livid to hear such news that they willing to put their rivalry against Hybride Vampires' aside and working together to avenge their fellow vampire by not only killing Aden soldiers and invading Bahram, they also ends their alliance with Magia for good.
Freyas's first defeat by Hiroto has shaken the entire continent.
(TO be added...)
References
Edit
This arc is by far the second longest arc in the series after Phyllis Affairs Arc with at least 2 books chronicling Hiroto's debate in the Four Kingdoms Summit while facing both rivals from Magia (Urseus) and Phyllis (Abrahim and Freyas).
Community content is available under
CC-BY-SA
unless otherwise noted.